My last
post
was a review of the Kane Cornes biography and it has kept me thinking. While reading the books there were situations and feelings that I could identify with; being part of a cheering crowd, celebrating your teams win, ripping up pages of the telephone book, but where our experiences obviously diverge is that Kane went on to be a 300 game AFL player for Port Adelaide.
I'm still the fan in the crowd, passionate observer. My role hasn't shifted.
My childhood in the 1980s and early 90s was spent at Alberton Oval or various other suburban football grounds. I went to all the Magpies Grand Finals wearing my black and white, dutifully filling in my Footy Record and cheering on my favourite players. At home with my two brothers we would play kick-to-kick, replicating the play of Scott Hodges, Tim Giniver or Gavin Wanganeen. At Primary School I would be called on by our teacher to demonstrate to the class how to take a speccy or kick the ball correctly. But actually playing for a local club or, to dream bigger and play for an elite club was never going to happen. I was on the girls cricket and soccer teams, however I don't recall the School ever having a girls football team.
This is why I am so encouraged by the recent
decision
by the AFL to establish a women's league competition. This week my team, Port Adelaide,
announced
that they will focus on a "grassroots" approach to building a team rather then enter the competition in its inaugural year. Although I am disappointed that Port Adelaide Football Club will not be fielding a team as I always like a bit of "history in the making", concentrating on grassroots could turn out in the long run to be the way to the best option. It would be good to build the playing of football by girls in schools or at clubs to the levels experience in cricket, soccer and basketball.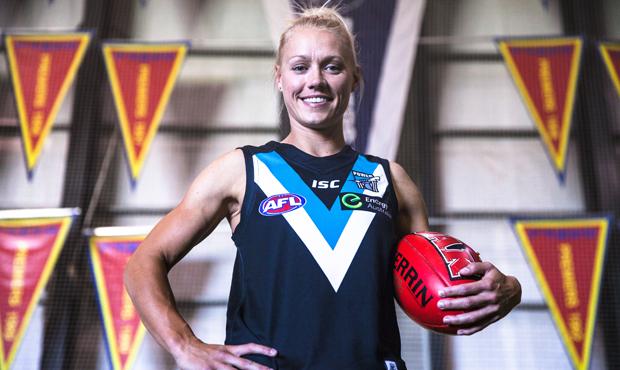 Erin Phillips, Olympian and WNBA basketballer and future Port Adelaide Women's League player (image: PAFC website)
I am hopeful that the inception of the Women's League will also help to breakdown barriers in the area of coaching, journalism, Board Membership and Club Presidentship. Women's inclusion needs to be about more than the AFL and Clubs being happy to take our Membership and merchandise money. Women need to be an
equal
part for the future development and growth of the game.
Amanda Vanstone: Port Adelaide Football Club Board Member
It will be a great day when the women's league is celebrating it's first 300 game player.