Apparently I am supposed to be presenting a paper at the soon approaching
AAANZ Conference
but when I looked at the timetable earlier today, my name was not there! Really hoping that this is just a small oversight. It did put me in a slightly bad mood for the afternoon. Or maybe my mood is to be blamed on todays heat.
Some brilliant news though...my mum via my brother made a huge Morrissey poster for my wall. I am yet to see it yet but have been tolda that it is HUGE. Thinking that I will put it in the hallway entrance, just so visitors know exactly what to expect upon entering. It is this picture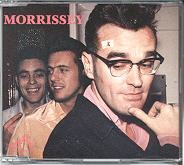 Will post a picture when I have it in the house.
Not much else has been happening in thesis land. Suddenly I feel very tired and I'm not sure if that is a symptom of knowing how much work is left to do. So overwhelming. But tomorrow is a new day and I am going to make the most of it. Cut down on internet blog reading (hard when writing a thesis on blogs but it must be done), prioritise work before I start and stop procrastinating start writing. Phew!